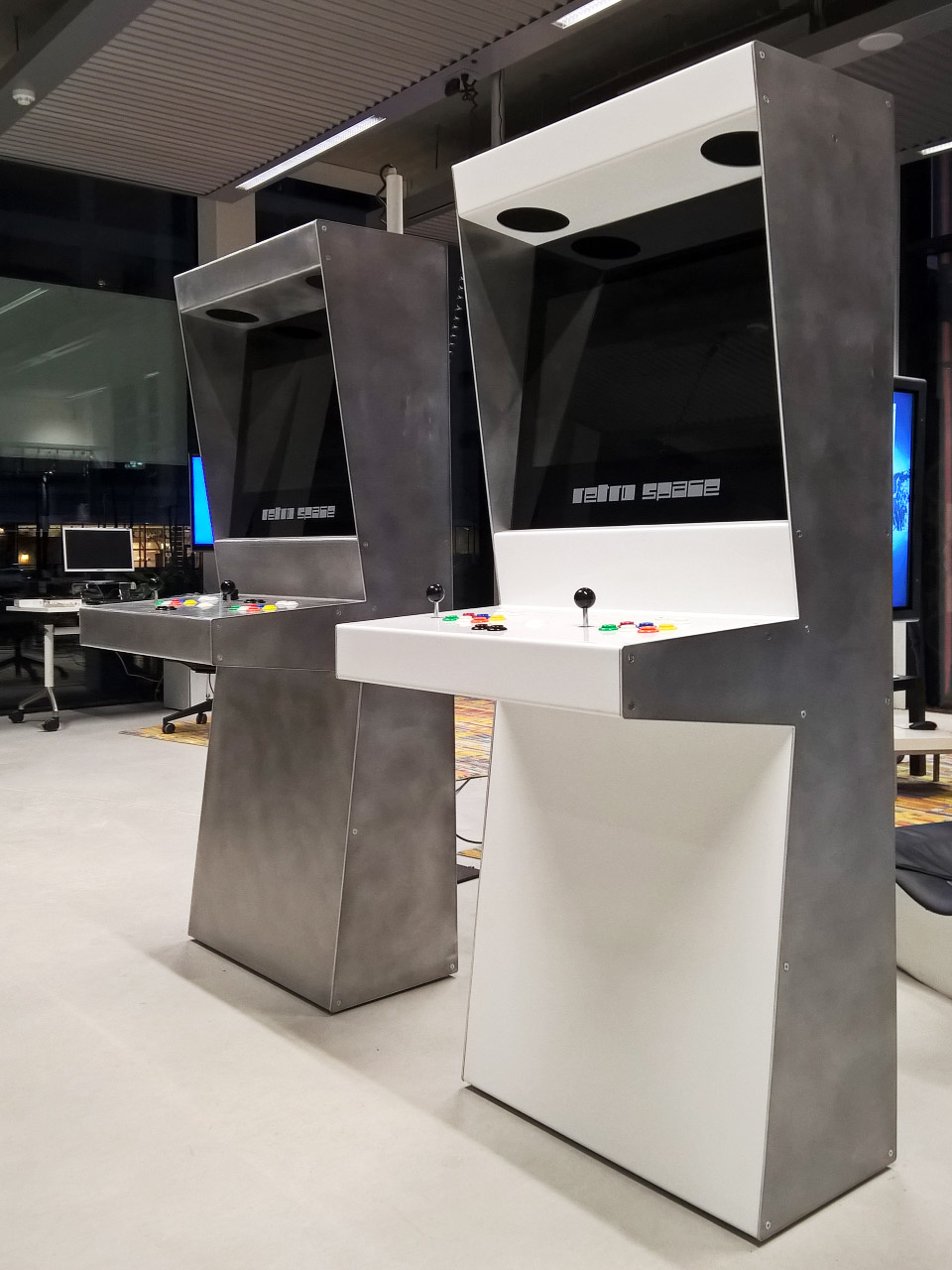 We just installed the first Retro Space 4.0 aluminium cabinets at the Sint Lucas Game Lab in Eindhoven. A nice way to mark the tenth aniversary of the Retro Space cabinets. The best arcade cabinet ever built.
Retro Space is releasing an all new arcade cabinet. Our fourth incarnation is built in laser cut and folded aluminium. It will be available in rotex polished blank alumium with linseedoil finish, or with the folded parts being powdercoated in your prefered RAL colour. The new version is sturdier than ever, easier to service and totally modular. The option to mount a rear display is present as well.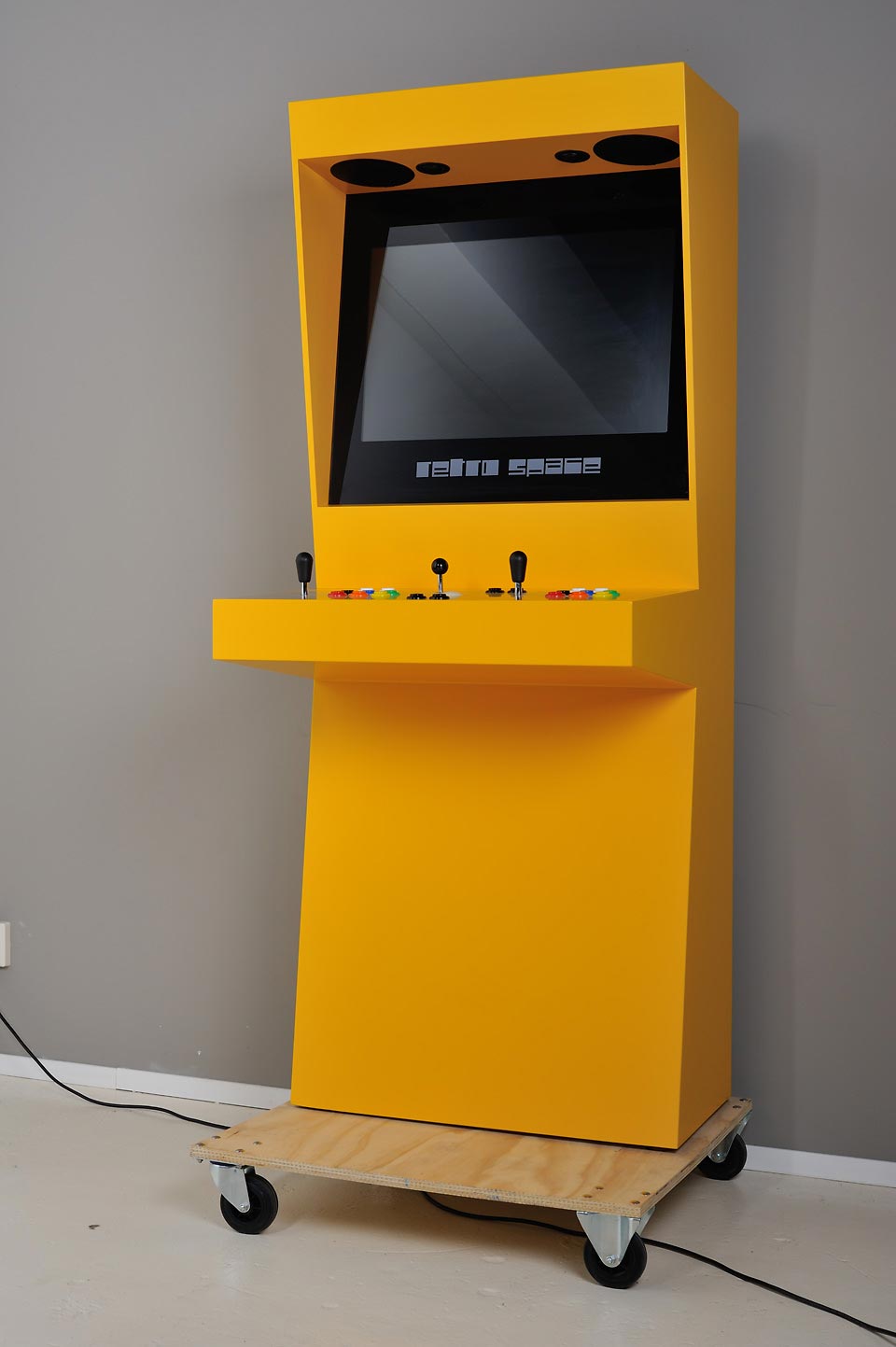 Retro Space The Original in semigloss RAL 1003 yellow.
History of arcade cabinets

In 1971 Nolan Bushnell created the first coin operated video arcade machine "Computer Space". The striking yellow fiber-glass cabinet and the remarkable marketing flyer lead the way to almost 4 decades of video arcades. After this first video game machine, the cabinet design became less important than the games inside. The video game cabinet was mostly side art stickers on black melamine furniture ever since.
Today the video arcade, as an institution where we hung out, is dead. The few that are still open either struggle for life or generate income by other means. The home gaming console and its owner mr. couch potato have won the battle.
As a homage to the video arcade era, and especially to honour the design of the first ever arcade cabinet, I created "Retro Space". The perfect machine to mark the end of this marvellous time in gaming history. Either as art or as the ultimate gaming gadget.
A machine that plays ALL the games us kids of the seventies, eighties and nineties have burned onto our retinas. Modern technique, modern style, retro gaming and retro style are all blended together in Retro Space...
Retro space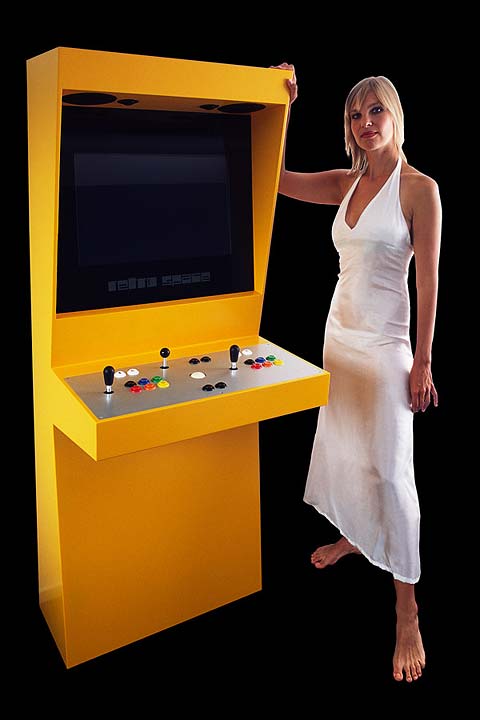 Retro Space promotional flyer, modern interpretation of the classic Computer Space flyer.
Recreating the past - space for the future
Wouldn't it be great to relive your classic gaming experiences on a machine that is made for the future? Retro Space is a pretty cool piece of furniture. The stunning arcade cabinet fits either your 70's retro room or your minimalist interior. It is ready to play all the games you know from the past. Load it with all your music and movies for use as a media jukebox. And feel free to load it with software to add any functionality you might imagine in the future.
Play
First of all Retro Space is a retro gaming machine. Equipped with real arcade controls in a durable and timeless anodised aluminium control panel it plays all classic 1 and 2 person titles with genuine arcade feel. Retro space comes with a pack of more than one hundred licensed arcade classics and all the emulators needed to play your old 8 and 16-bit disks and cartridges from the attic.
Listen
Busy with other things? Let Retro Space play all your music. Use it as stand alone jukebox with its built-in hi-fi audio system, or tell it to stream your favourite music to your stereo set.
Watch
The built in full HD (1080p) capable screen can be used to watch high-def movies directly on your Retro Space. If you do not like standing while watching, let it drive the TV near your couch. We like to equip it with a 27 inch 1920x1080 MVA screen for perfect Pac-Man blacks and wide viewing angles. You are also welcome to supply your own screen. The VESA bracket allows many screens up to 10 cm depth and 28 inch diagonal to be mount inside. We can cut the bezel to your specifications.
Get creative
Tweak Retro Space to fulfil your imagination. Use it as video phone, as terminal to control your house appliances, let it monitor and talk to unwanted visitors, use it as web or media server. Or even use it to feed the cat while you are away. Nothing is too mad.
Construction
The Retro Space production counter is at 118 right now. The 26 first cabs were bought by the Dutch Game Garden to promote the best game productions from the Netherlands in an anual event called Indigo Showcase. We don't keep cabinets on the shelve. You can rent a yellow or a blue one for promotional activities in the Benelux and Nordrhein Westfalen in Germany. We also build new ones to order according to your preference. Give us a call for a quote.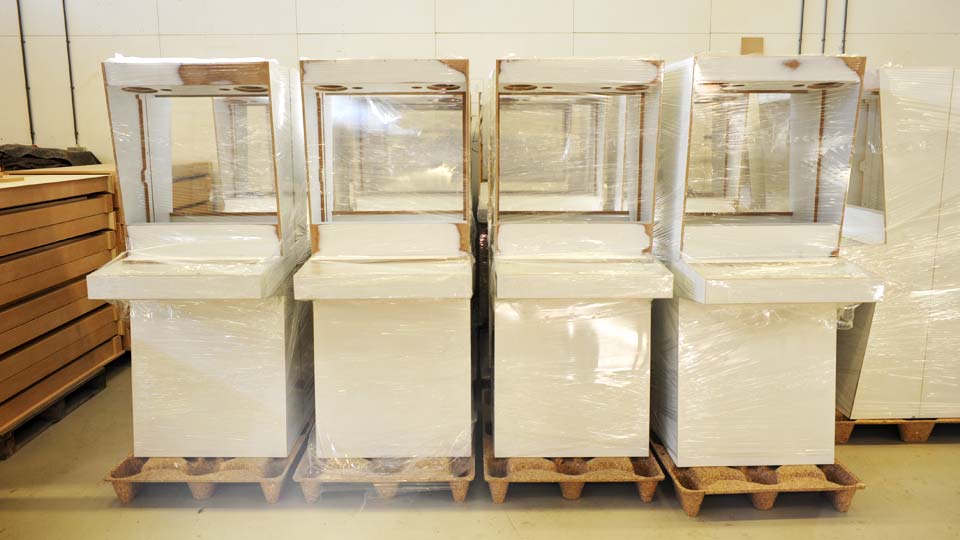 Cabinets are ready to go to the paint shop.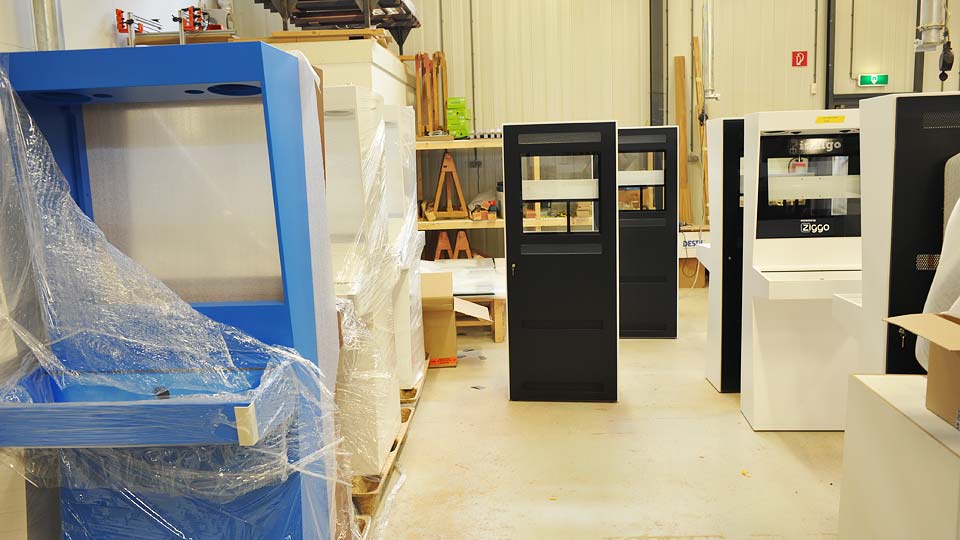 Final assembly of screen, speakers, door and wiring.
Tech Specs
Cabinet
High precision CNC milled MDF cabinet
3 layers scratch proof semi gloss paint in RAL 1003 yellow, RAL 9016 white,
6mm tempered glass screen bezel
Controller
Arcade quality Sanwa or Seimitsu joysticks, pushbuttons and a Suzo trackball
All controls are mount invisible: no bolts, no washer edges.
Dual fighter layout with analog/4-way section for classic games
Optional spinner with dual analog stick configuration
Sturdy anodised aluminium control panel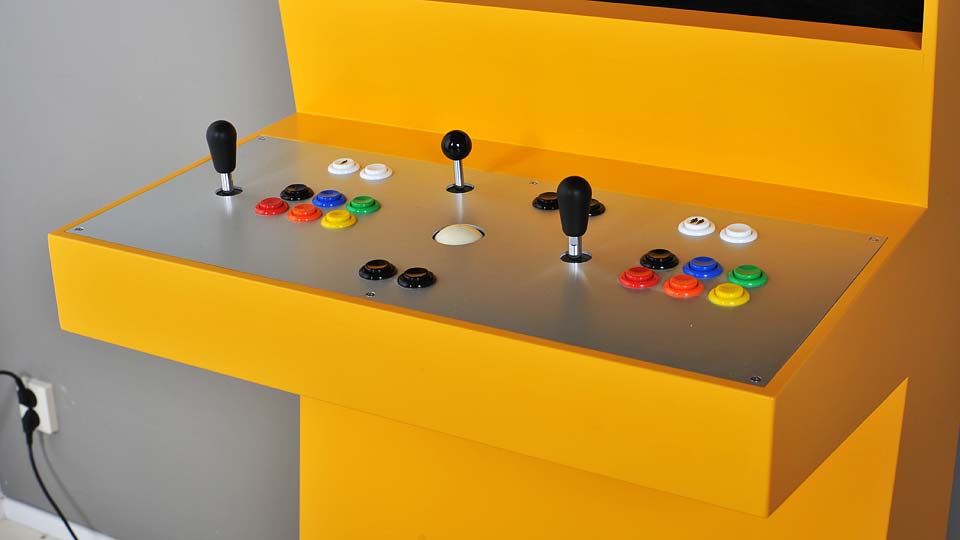 Closeup of the controller panel. This one is in use for 8 years now, has been rented many times, and looks and works like new.
Screen
1920x1080 pixel 28 inch MVA LCD monitor
1:1500 static contrast, 400cd/m2 max
178°/178° degrees viewing angles
Wide Gamut display
Support for 24,976Hz, 50Hz and 60Hz
Visual image area comparable to 24 inch horizontal CRT or 19 inch vertical CRT
Computer
Raspberry Pi 3 with custom Retro Space frontend, or a MacMini
8Gb RAM, 256GB SSD, WiFi, Bluetooth, Gigabit Ethernet, HDMI, TB 2.0
BT keyboard for cordless typing, trackball for OS operation
Sound system
Hi-Fi stereo 2x90 watt 2-way speaker system
Audiophile T-Class amplifier
Miscellaneous
Size: 725×1815×610mm
Weight: 40 kg
Power consumption: 200 watt in full operation
Made in The Netherlands
Retro Space 2.0
The biggest client for the original Retro Space, Dutch Game Garden, wanted to be present at the Game Developer Conference (GDC 2013) in San Francisco. Shipping all original cabinets was not prefered as it would take a month by boat and truck with the risk of damaging the cabs. So Dutch Game Garden asked me to make a lighter flat pack version. Call it Retro Space 2.0, or the road edition. This time no hand sanded and spray painted version, but a DIY assemble plywood one. From march 25-29 2013, Dutch Game Garden used 20 of the new cabinets to show the best of the Dutch game industry in a special Indigo event at the Dutch Consulate in San Francisco.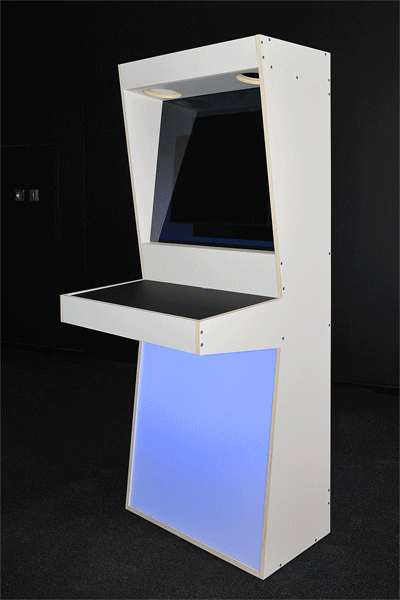 The first of a new series of Retro Space 2.0 cabinets.
Cardboard Retro Space cabinets: 1:1 and 1:2 scale.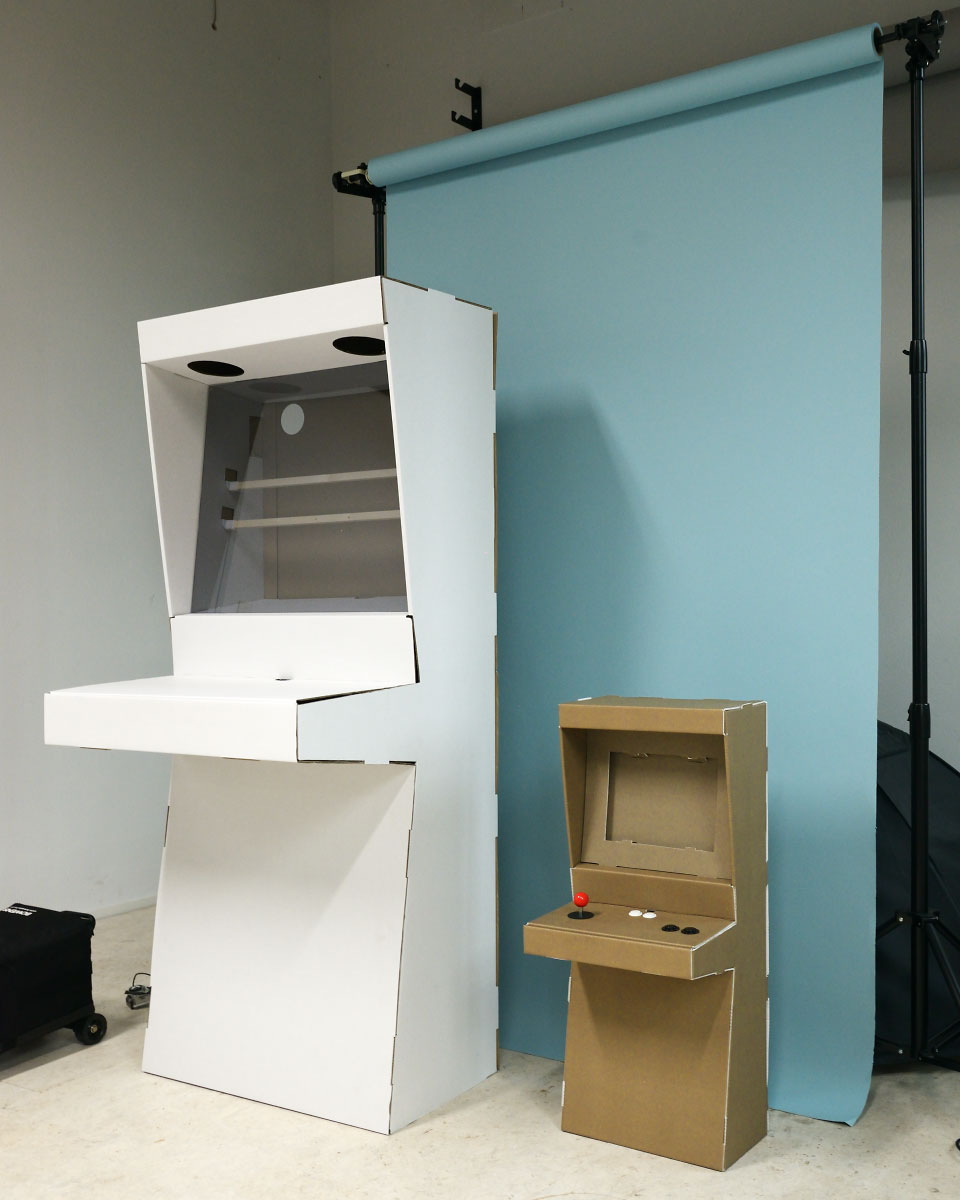 Retro Space 3.0 and 3.mini are made in cardboard. You fold it yourself from 5 big sheets of pre-cut cardboard. Together with 2 wooden sticks and 4 plastic clamps it holds a VESA flat panel screen. The smoked plexi is laser-cut to fit the cardboard case. It comes with instructions on how to make a fully functional arcade control panel, sturdy enough for some serious play. Retro Space Cardboard is aimed at short events where you need a nice presentation of your games. You can easily carry it around. It has been spotted in San Francisco pubs during the GDC!
The smaller version is perfectly suited for making a couch-arcade from your iPad. It can be ordered together with a Bluetooth gamepad controller, a real Seimitsu arcade stick and 5 arcade buttons.
Clients
Retro Space cabinets can be found at:
Dutch Game Garden
HKU Hilversum
Mediacollege Amsterdam
Fontys ICT Eindhoven
Sint Lucas Eindhoven

Contact
Retro Space
Torenallee 30-40
5617 BD Eindhoven
The Netherlands
+31-6-18201318
Email address: Name of the first commercial coin-op arcade cabinet without spaces @ retrospace.nl (answer above)

Privacy
We do not track website visitors, there are no cookies and no statistics as viewing those is mainly boring. The only personal info that might get to our servers is your e-mail message, or your bills if you ordered cabs. If you want to get rid of messages you send in the past, please drop us... an e-mail. Or a phone call. Bills can only be removed after the Belastingdienst is no longer interested in vintage bills.
© 2008-2018 Martijn Koch